Read why Dr. Surveen has one of the highest success rates in the country & is loved by all her patients.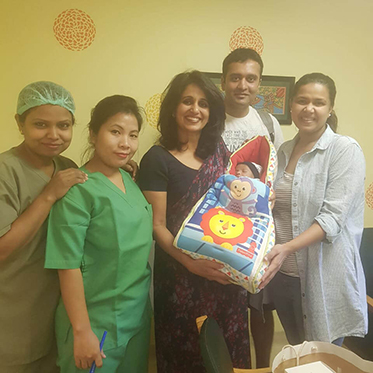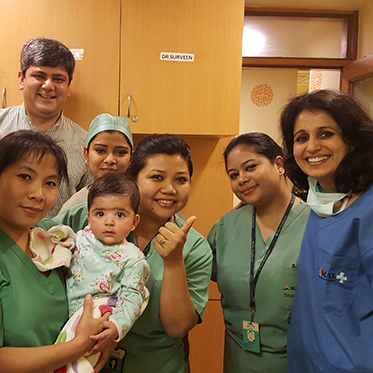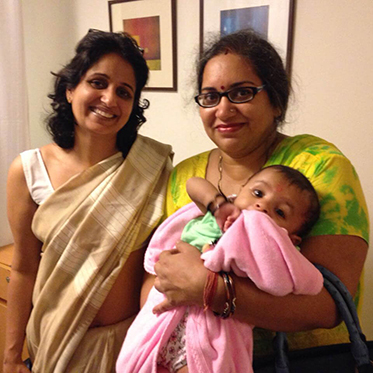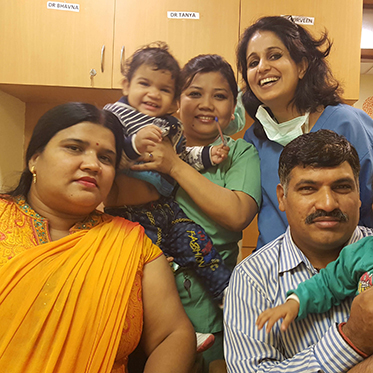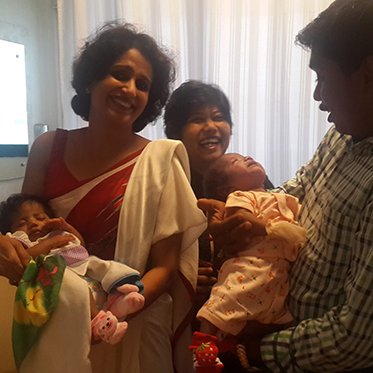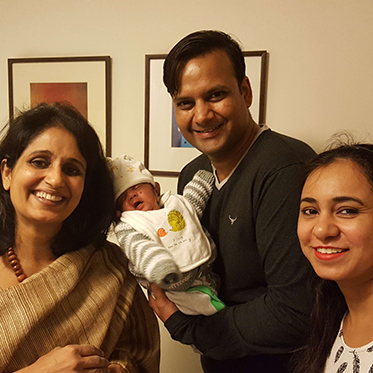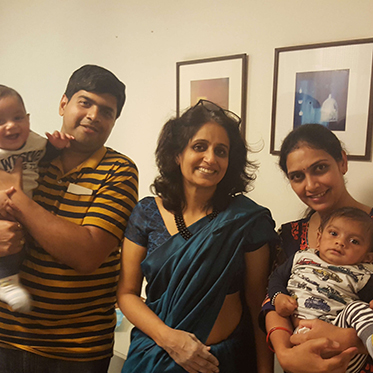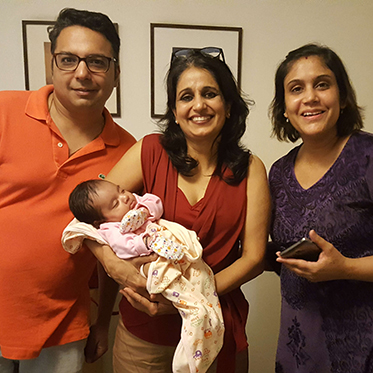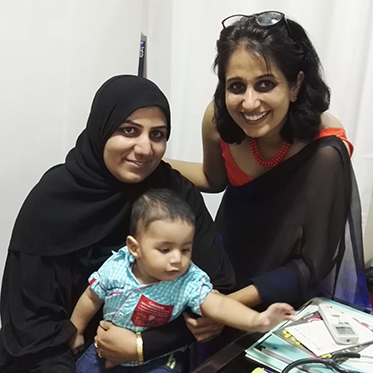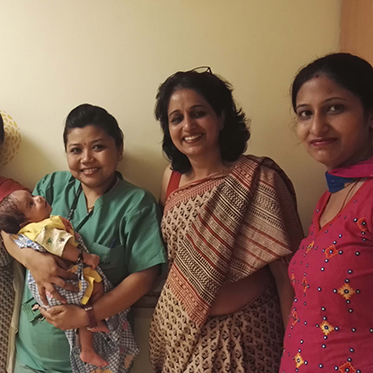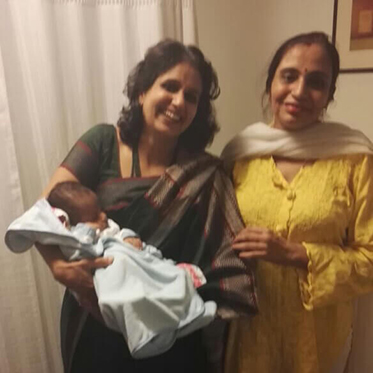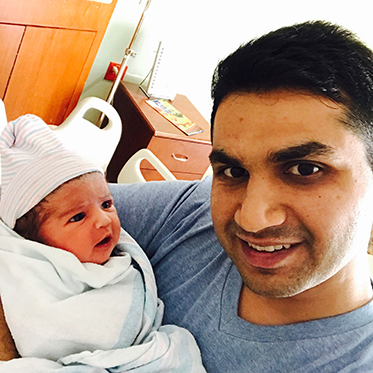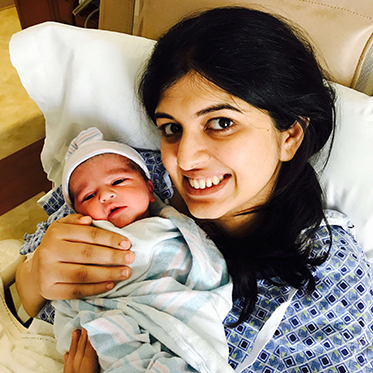 My wife and I traveled to India from the USA for infertility treatment. We visited some hospitals in Delhi after coming to India, and the doctors said we cannot have our own children. I started searching for more successful, experienced which led me to doctor Surveen Ghumman Sindhu.
We went to many IVF doctors in Delhi. Finally, Dr Surveen Ghumman Sindhu treated us and we are now blessed with a baby. Ours was a difficult case with low AMH. However her injection protocol and additional drugs she gave were so effective that we got 9 eggs.


We had a wonderful and positive experience of having a donor egg IVF treatment with Dr Surveen. Coming from the UK, we had a lot of insecurities of getting the process done in India but working with Dr Surveen reassured in every way that we are in good trustable hands esp.

The thought of getting pregnant in this lifetime became a mere illusion for both of us after going through various treatments and different doctors checkups. Since the beginning, Dr Surveen's undaunted positivity and sincere commitment kept giving us immense hope despite all odds.
We are a couple from Afghanistan. We eventually decided to visit the best physician in India. In Google I came across hundreds of gynaecologists in Delhi. I finally made up my mind to choose Dr Surveen.



As we set out on our IVF journey, we researched many hospitals and Doctors across India and Dr. Surveen was the one who took the time to respond to my query, provide details and context. She helped me to carve out a plan and my husband and I took time off work to travel to India to meet with her.
I can't thank Dr Surveen enough for all the kindness and professionalism shown throughout our treatment. I felt a personal connection with all the staff members as each was so caring and made me feel so comfortable at all times.


We had consulted 3 doctors (who performed 4 unsuccessful IUI's) before meeting Dr. Surveen for discussing our 'unexplained not able to conceive issue'. She is so gentle and answered our queries with such grace and patience that we got confidence in our first meeting.
We came to meet Dr.Surveen only for a 2nd opinion, but talking to her about our journey and the way she comforted us by giving us confidence made us decide to go for our IVF treatment under her supervision only.



I was really impressed with Dr Surveen when I started email correspondence with her. Even with her extremely busy schedule she replied by herself for each and every hundreds of emails I sent.



I am thankful to God for many things in life, but one of the most important things is to have people like Dr Surveen in existence who are not only blessed with immense talent but beautifully use their talent in the most unpretentious way.


In the times when I needed a hope, Dr Surveen was the only hope we had and today with her blessings and expertise I am pregnant. I have seen many doctors for 4 of my IVF treatments but never found any one more professional yet personal doctor like Dr Surveen.
We had been trying to conceive for the past 4 years. We also tried ovulation induction & 4-5 IUI's at reputed infertility clinics but all efforts went in vain. Then we met Dr Surveen. In the very first consultation with Dr Surveen we gained tremendous hope & confidence.
One fine day I was lucky enough to have Dr Surveen as my treating doctor and I knew if she couldn't do it then no one else in the world would be able to do it. With her constant monitoring and hard work on me made it possible for me to conceive.

The words cannot express the gratitude we have in our hearts to Dr Surveen and her team who have helped us in the difficult journey towards achieving parenthood.



My pregnancy has been possible only because of Dr. Surveen Ghumman Sindhu, whose way of treating her patient is exceptional. She is so calm and kind with her patient's right from the beginning till end.



For my infertility problem, I was very skeptical to go to a doctor who sees every patient as just another client. However, after meeting Dr. Surveen Ghumman Sindhu, a person with pleasant disposition, passionate about her work and compassionate towards her patients, all my fears vanished.
We traveled the world for a chance to conceive. For 5 years we visited multiple gynecologists.. We did surgery after surgery. Internet searches speak of India as having high rates of success in terms of in vitro fertilization.



I remember this day in my life when I visited her for the first time.
The time was very scary as Dr Surveen was the last hope of my life. But the day I visited her my hopes were regained. She was the first person who showed me a positive sign.
We went to New Delhi, and got to know Dr. Surveen; a woman, kind, smiling, encouraging, speaks with a soft voice without ever raising her voice, with specific questions.



With proper treatment, support and guidance under Dr. Surveen, I became pregnant. I would like to thank Dr. Surveen for all the help and dedicated support during my treatment.



We are writing this as a token of our gratitude and appreciation for Dr. Surveen Ghumman Sindhu's efforts and guidance in helping us conceive our first child through IVF after 8 years of marriage and earlier failure.
Being blessed with a child is God's Miracle. And after 8 years of marriage without any child I lost my hopes and ran out of options. But with God's grace we met Dr Suveen and she gave us a ray of hope.
After years of trying I have conceived through IVF with Dr Surveen's treatment. She was kind, sensitive helpful, and professional. Her encouragement and positivity made us feel we were in the right hands.
It has been a very long, trying journey for us; one that we could never have imagined, nor one that we would ever want anyone else to experience. We met Dr Surveen when we had lost all hope, she was an angel and gave promise of hope.
A ray of hope when you need it the most, a magician who can turn your dream into reality, a perfect smile when even your tears have given up, a person who changed our world for the absolute best..that's Dr. Surveen for us.


I and My husband have been trying for the baby for about one and half year without knowing that conception through natural way was not possible in my case. Dr Surveen Ghumman Sindhu gave us hope with the knowledge of IVF procedure.
I came to Dr Surveen and was pregnant with twins after the first in vitro cycle thanks to Dr Surveen. I have referred her name to many friends who have unfortunately faced the same difficulties that my husband and I faced in the past.
After many years of infertility we met Dr Surveen and on meeting her, her positivity gave us instant hope. We put our trust in her and knew that somehow she would help us overcome this incredible battle.


During the period of 6yrs we had lots of struggle & approached so many gynecologist but got no fruitful result. We tried 3 cycles of IUI but failed. we were very much disappointed from everywhere.


Full 9 years of rigorous,utmost painful and gruelling treatment at reknowned hospitals and clinics drained me out completely,physically and mentally. On top of that rounds to "Neem- Hakim", "Jhaad-Phoonk", "traditional methods" too were of no use.
It has been fifteen years after my married life and like every other woman, I too had dreams of attaining motherhood, which did not get fulfilled until I approached Dr. Surveen.



A child in our lives was a dream in waiting for ten long, agonizing years. After enduring the long journey of unsuccessful attempts to conceive the love of our life, we met Dr Surveen. A smiling and energizing persona radiating a fresh hope to us.
Dr. Surveen has so much patience. During our appointment, she explains in great detail all that we discussed and gave me an incredible sense of assurance and support. Knowing that she was in charge made me feel that everything was going to be the best it could be.
I, very much appreciate Dr Surveen's clear communication, patience, explaining the process very clearly in layman terms. Without her help and support there is no way we would have considered to come all the way to Delhi for IVF, meaning we would never have become parents.
Thank you so much to Dr Surveen and her team for all their support throughout our IVF journey. She made it relaxed and realistic all the way through. Now my wife is 8 weeks pregnant and she made our dream come true.


We had been married for 12 years and tried 3 times IUI from Jaipur and 2 times IVF from Agra. Then we heard about Dr Surveen and in first attempt, I got my positive result. It is like a miracle. Thank you to Dr Surveen. She is the best IVF doctor.
I have no words how to thank Dr Surveen and express my happiness. With God's will she did her best . I knew it will be successful because everything she said and expected was happening . She always has a place in our heart.
All thanks to Dr Surveen - her magical touch and blessings. We are falling short of words to express our happiness and gratitude for her. Dr Surveen has been a lot more than a doctor for us. She is an expert and master of what she does.
We had tried a lot but we didn't suceed but when we meet Dr. Surveen, she suggested regarding IUI and we go for treatment under her concern and finally we got a positive result. Thanks a lot, to Dr. Surveen and her experienced skill.
My son Mohamed is now 7 weeks and is doing great. My husband and I, again want to thank Dr Surveen for the unmeasurable and unforgettable joy that she brought in our lives.